Our Rubber O-Rings and Seals Range
With the ever-increasing demand for "one-stop shops", Wye Valley has moved with the times yet again and now offers our customers a full range of rubber O-rings and even O-rings and seals. With customers constantly looking to single-source all their rubber components; Wye Valley Precision Engineering has decided that we must strive to keep one step ahead and offer the complete package.
Also, manufacturing EMC/EMI shielded O-Rings in metal-filled conductive elastomers using amongst others, nickel graphite and silver aluminium-silicon and fluoro silicone materials.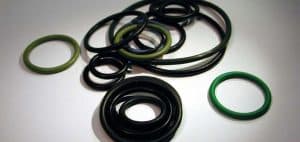 British Standard O-Rings
Wye Valley is now stocking BS standard O-rings in various materials and specifications to meet the high customer demand.
Bespoke O-Ring Manufacturer
Not only can we supply standard size O rings but we also have the ability to supply custom moulded rubber O-rings and seals. Contact us today if you need a tailor-made O-ring solution.
Rubber O-Ring Sizes Available:
Sizes BS1806
Sizes BS (Metric) 4518
Metric Sizes
EMC/EMI O-Rings
An O-ring, also known as packing or a toric joint, is a mechanical gasket in the shape of a torus; it is a loop of elastomer with a round cross-section, designed to be seated in a trough, which is compressed during assembly between two parts, creating a seal at the interface.
Contact Wye Valley today for your rubber o-ring requirements:
Call us on 01989 763 519
Email us direct paul.nelson@wye-valley.co.uk