Electrical Connectors
Wye Valley Precision Engineering is a rubber engineering company that specialises in the manufacture and supply of anything rubber in electrical connectors for use in a wide variety of industries including:
Rail connectors
Aerospace connectors
Marine connectors
Automotive connectors
Military-grade connectors
Industrial connectors
Bespoke connectors
We are manufacturers who supply many companies in the UK and across the world with their connector requirements.
Manufacturer of Standard and Bespoke Electrical Connectors, Inserts, Grommets and Accessories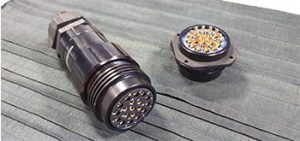 Electrical connectors are crucial components that are required in a wide variety of applications, in a wide variety of industries including trains, planes, cars, vans, boats, ships, tanks etc.
Choosing the correct connector/material is very important as different connectors have different properties depending on the application, project and environment that they are going to be used for.
If you're not sure which connector/material is right for you, talk to Wye Valley Precision Engineering, where we can use our experience and expertise to make sure you have the right connectors for your application.
British Made Connectors

All Wye Valley's connectors, both standard and bespoke, are made at our 30,000 sq. ft. factory in Ross-on-Wye, Herefordshire, UK.
Call: 01989 763 519  Email: paul.nelson@wye-valley.co.uk or fill out the form on our contact page.
Standard or Bespoke Connectors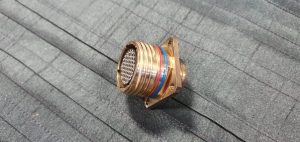 Many electrical connectors are standard connectors and must be made to meet stringent British, European or American standards depending on the market that they are manufactured for.
For over 40 years Wye Valley Precision Engineering has produced almost every possible connector that you can think of and we are proud of our excellent standards of work and record of compliance. Our quality workmanship and professional approach make us stand out from the crowd.
Sometimes industries require bespoke electrical connectors and we are pleased to say we can take a project from conception to completion including design, tooling, production and finishing.
So, whatever your needs when it comes to connectors, we are confident in our ability to deliver the goods you need.
Other Rubber Moulding Services
We can also supply gaskets, seals, O-rings and EMC shielding components in a range of different materials.
We can offer a variety of auxiliary services. If required, this includes machines to add laser printing to our connectors.
Standard Electrical Connectors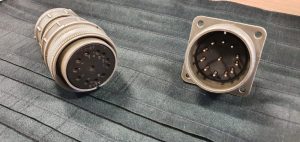 Below is a list of some of the standard electrical connectors we offer. If you do not see what you require or have a need for a bespoke connector do not hesitate to get in touch and discuss your need with us.
Polychloroprene (Neoprene) Connectors:
Specs:
AB05 Miniature Bayonet Coupling Connectors
AB05 10-76 Miniature Bayonet Coupling Connectors
AB06 Audio Miniature Bayonet Lock Connectors
121B Reverse Bayonet Coupling Connectors
MSE Connectors
Pat 105 Connectors
LMG Heavy Duty Circular Connectors
LMF Multi-contact Connectors
VG.95 234 Bayonet-Lock Connectors
Specs:
Rail Connectors
Ukan Connectors
Trident Connectors
Fluorocarbon (Viton) Connectors
Specs:
High Temp
HTMS
HTB
Mil-C-38999
ESC 004
Other Electrical Rubber Components
Wye Valley Precision Engineering offers a wide range of other electrical components including:
Plugs, Sockets & Grommets
Insert Assembly
Cable Assembly
Seals
Insulators
Bonded Ring Nuts
Connectors
Moulded Cable Assembly
Electronic Enclosures
Contact Us today for your rubber connector or component requirements
Call us on 01989 763 519
Email us direct paul.nelson@wye-valley.co.uk